Quick Spots R&D powered by OptimEyes
Quickly & Easily Process Proteome Profiler™ Antibody Arrays from R&D Systems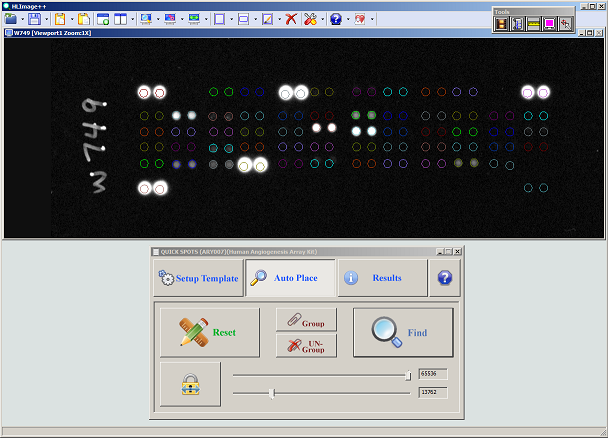 Quick Spots R&D enables you to quickly and easily analyze the results of your Proteome Profiler™ Antibody Array experiments.
Simply align the template* over your image, and Quick Spots calculates the pixel density at each site. Export your results to any spreadsheet program such as Microsoft Excel.
Get an Activation Code
The first time you use Quick Spots, it will ask for an Activation Code. Use this form to purchase. Then generate your code here.
* Templates are supplied for: ARY001B, ARY002B, ARY003B-PartA, ARY003B-PartB, ARY003C-PartA, ARY003C-PartB, ARY004B, ARY005, ARY005B, ARY006, ARY007, ARY008, ARY009, ARY010, ARY011-PartC, ARY011-PartH, ARY012-PartC, ARY012-PartH, ARY013, ARY014, ARY015, ARY016, ARY017, ARY018, ARY019, ARY020, ARY021B, ARY022, ARY022B, ARY023, ARY024, ARY025**, ARY026, ARY027, ARY028, ARY029, ARY030, ARY031
** ARY025 is a twin-pack array containing ARY021B and ARY023. The templates created for ARY021B and ARY023 can be used for ARY025.
Demo: How to Process an Array
Additional How-To Videos