Quick Spots R&D powered by OptimEyes
Quickly & Easily Process Proteome Profiler™ Antibody Arrays from R&D Systems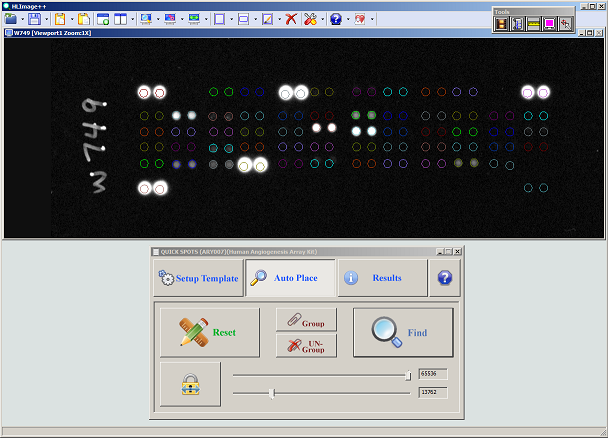 Download
Purchase Activation Code
The 90-day trial is fully functional. The only difference is that a new activation code will be required after 90 days. The full version never expires.
Once you have purchased your activation code, you can get it here.
Supported Arrays: ARY001B, ARY002B, ARY003B-PartA, ARY003B-PartB, ARY003C-PartA, ARY003C-PartB, ARY004B, ARY005, ARY005B, ARY006, ARY007, ARY008, ARY009, ARY010, ARY011-PartC, ARY011-PartH, ARY012-PartC, ARY012-PartH, ARY013, ARY014, ARY015, ARY016, ARY017, ARY018, ARY019, ARY020, ARY021B, ARY022, ARY022B, ARY023, ARY024, ARY025*, ARY026, ARY027, ARY028, ARY029, ARY030, ARY031
* ARY025 is a twin-pack array containing ARY021B and ARY023. The templates created for ARY021B and ARY023 can be used for ARY025.
Getting Started Videos
How to Install & Activate
How to Process an Array
How to process a Two-Part Array (ARY003C or ARY003B)